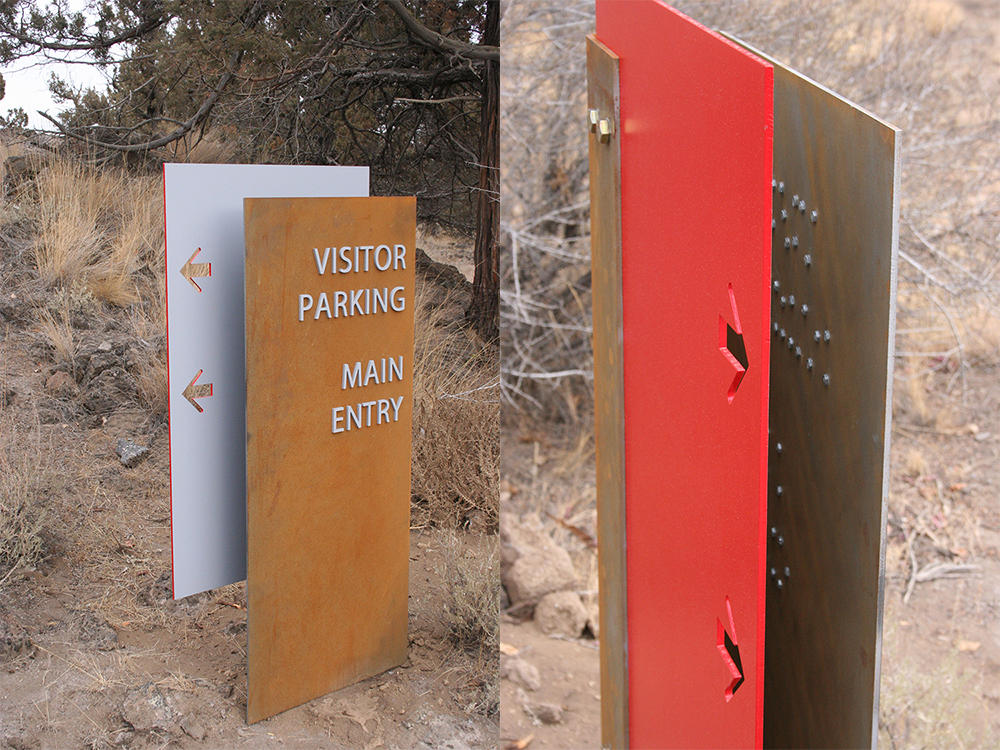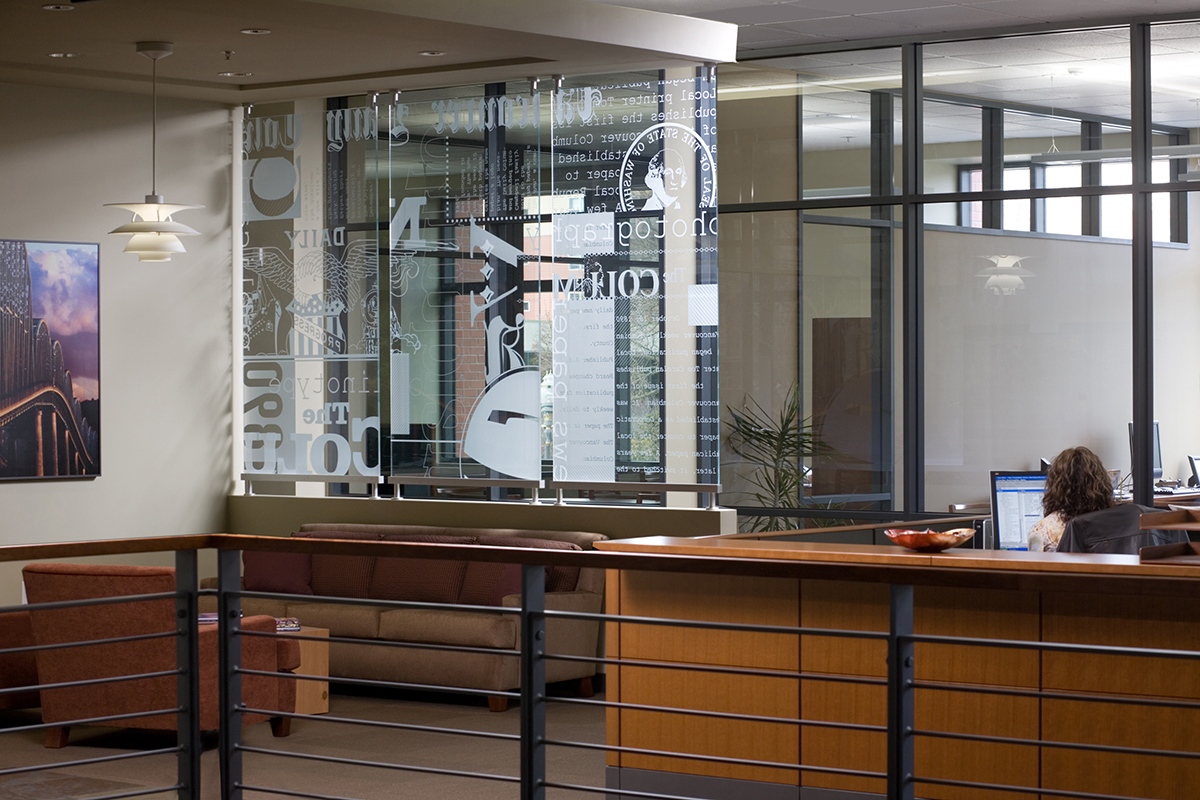 Sony - Ericsson North American HQ
Architect: TVA Architects
Comprehensive interior/exterior environmental graphics add function, detailing and branding to this corporate campus. Site signage, vehicular wayfinding, pedestrian wayfinding and exterior identification elements are integral with the architecture and reflect Ericsson's product design and corporate standards. Interior signage incorporated regional imagery to help define area work zones. Color, material, finishes and shapes of regulatory, office and conference room identifiers reflect Ericsson's Brand.
NIKE WORLD HEADQUARTERS - Beaverton OR
A thematic, pedestrian and vehicular signage/wayfinding program was developed for the Nike World Headquarters. The project consisted of exterior wayfinding for the 74-acre site as well as interior signage for eight buildings consisting of 570,000 square-feet. Implementation of the plan provided a fresh graphic image for the wayfinding components through the use of architectural and Nike-themed icons.
A/D provided Design / Build services for all interior and exterior signage for the campus expansion.
A/D provided Design / Build services for all interior and exterior signage for the campus expansion.
Nike Bus Shelter — Nike World Campus, Beaverton OR
LES SCHWAB HQ Bend, Oregon
GBD Architects, Inc
Completed 2009
Ambrosini Design was asked to provide design / build services for the signage / wayfinding and themed graphic murals for the new Les Schwab headquarters located in Bend, Oregon.
Our solution: A graphic system that reflects the architectural materials palette and the surrounding area of Central, Oregon.
The Les Schwab offices were the first parcel in the 1,500-acre Juniper Ridge master plan. Phase I includes a 120,000 sq. foot, three-story office building with 350 parking stalls.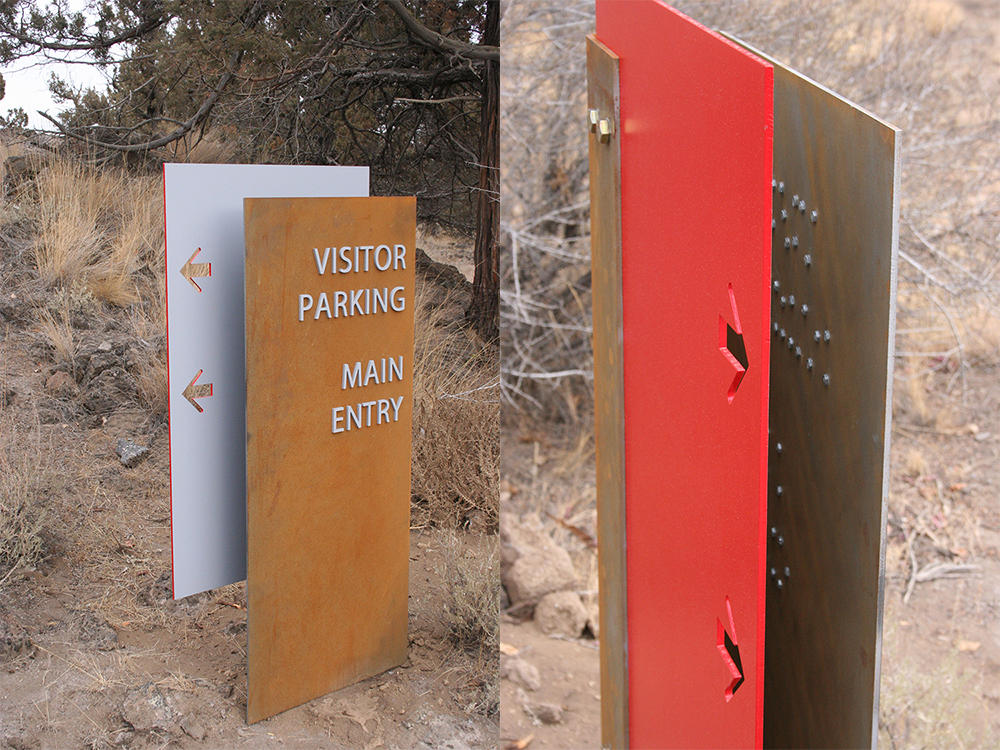 Thematic Murals
The interior mural program follows the rich history of Les Schwab the iconic tire company's founder from the first store in 1952 to present day.
Employees and visitors are able to follow the company's history from the beginning of the first store located in Prineville, Oregon to the chains 400 plus location in eight western states today.
The story unfolds beginning on the lower building level and culminates at Level 4 Board Room display cases of personal memorabilia of the founder.
DECKERS BRAND - Goleta, California
A/D provided Design / Build Exterior Signage / wayfinding services for Deckers Brand new five building campus located in Goleta, California.
The program included site directional, monument signs, building identifiers and storefront signage for the on-site retail outlets.
Materials reflect the regional stone and color palette of the area.
COLUMBIAN NEWSPAPER - Vancouver WA
Architect: GBD Architects Inc
A comprehensive exterior and interior signage / wayfinding program was designed for the iconic family owned newspaper, published its first daily in 1890.
A/D provided Design / Build services for the lobby in-floor display of archeology artifacts unearthed during construction of the new home of the newspaper.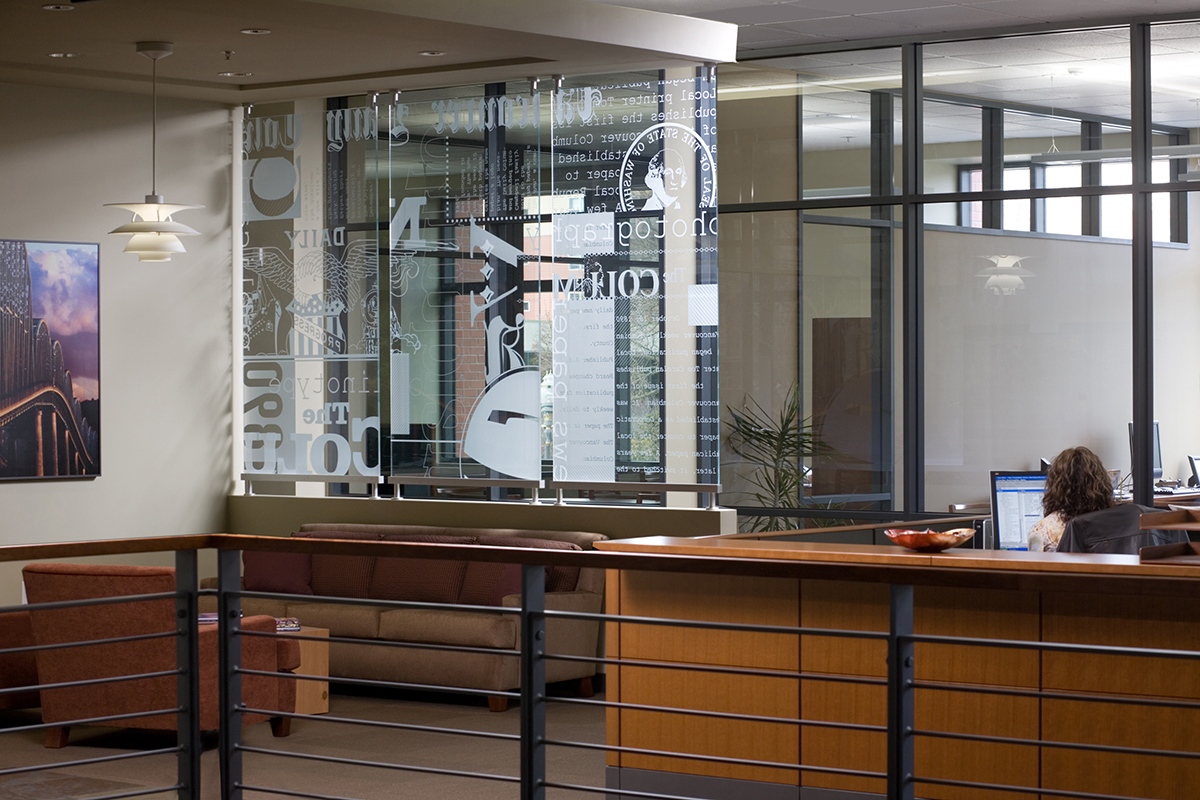 A comprehensive history of the newspaper tracing it's rich history from 1890 to present day was a Design / Build project that A/D provided for the client. Glass panels were photo etched and edge illuminated throughout the building.